Square profile tubes GOST 8639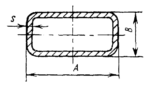 Profile pipe wholesale and retail
To understand the designations of profile pipes, consider an example:
The profile tube has dimensions (mm) 60x40x30, where A = 60 mm, B = 40 mm are the external dimensions, and S = 3 mm is the wall thickness.
The length of the profile pipes can be 3-12 meters. This parameter can be seen in the appropriate column.
Showing 1–12 of 23 results
A square profile can also be used as reinforcement in construction. This may be the installation of metal structures, building frame, supports, masts, complex floors or spans, etc.
The feature of a square tube with square cross-section in its rigid edges, which makes the material resistant to mechanical stress and heavy loads.
The square profile can also be used to create fences, making furniture and interior objects, designs in advertising. Often this profile is used in the repair and finishing works.
The square cross-section of the pipe provides maximum adhesion to the surfaces, which makes it possible to save metal. If we compare square shaped tubes of large cross section and metal beams, the first ones will cost less.